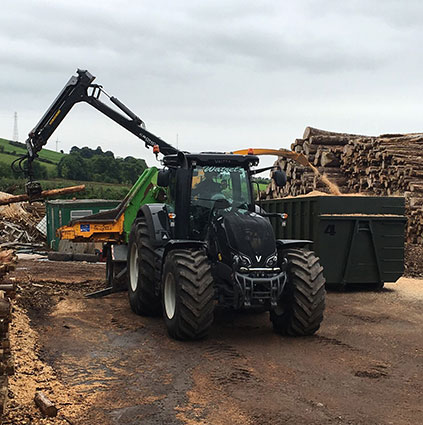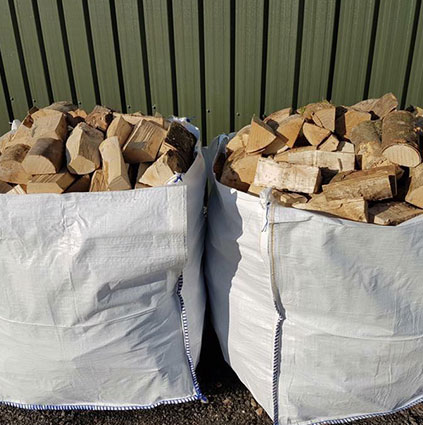 BIOMASS WOODCHIP
FUEL SUPPLIERS
Most often used in commercial boilers over 45kW in size, wood chips can be stored in a fuel store which is well aerated to reduce moisture content and build up of damp.  Wood chips contain less energy per unit volume than wood pellets, as they are less compressed; however, they are cheaper to buy, which often means that they are the most cost effective of the bought-in biomass fuel sources.  Made from chipping logs in an industrial chipper, they should have a low moisture content (<25%) to ensure an efficient burn.
The correct specification is very important to ensure smooth auger in feed, preventing blockages and bridging within the fuel store. The recommended particle size for your particular boiler is also important to ensure optimum burning efficiency. With our chipper we can also adjust the cutting depth of the knives – this means we can cut whatever specification is required by relying on the first cut of the knives, rather than a sieving grid and infeed speeds which can work to increase the instance of fines. We can produce every size of chip from the smallest microchip, to G30, to G50, to G100.
Our chipper is high powered and high producing – an impressive piece of kit! We're frequently asked about production capacity. Manufacturer's guidance gives 130m³ per hour, but in practice volume is highly dependent on a variety of factors, such as timber species, moisture content and presentation of the timber and of course the horse power of the tractor. Please contact us to discuss possible volumes and we will try to give you our best guess.
Powered by a 300 horse power Valtra tractor, our machinery is easily manoeuvred around sites and operates where larger lorry mounted chippers may not.
For those sites with logistical problems at the processing stage, we may also be able to provide machinery and equipment such as timber forwarders, tractors and trailers for moving and handling of your timber and wood chip.
Quality Assurance
We achieve a quality chip by not only using the necessary machinery, which must be carefully and regularly maintained, but by using a fully trained and experienced operator.
Please note, we only process virgin timber. Waste or recycled wood is inherent with a high risk of damage to our machinery, just as it is to your boiler and equipment.
SPECIALIST SUPPLIERS G30, G50 & BIOMASS LOGS & WOODCHIP
ABOUT WOOD FUEL
Here at Northwest Timber we specialise in producing high quality dry wood chip and biomass firewood logs for the biomass boiler market. We are authorised by the Biomass Suppliers List (BSL) and pride ourselves on supplying clean burning, low moisture and therefore extremely efficient wood fuel at the highest specification all year round.
Northwest Timber uses a very hands on, labour intensive, processes to produce the best woodchip possible.
FUEL DELIVERY
Delivery is by lorry or tractor and trailer and can be either tipped or blown into a hopper or storage vessel.
The price per cubic metre of Wood Chip can alter dependent upon volumes and frequency of requirements, please call for pricing.
BIOMASS SUPPLIERS LIST (BSL)
The Biomass Suppliers List (BSL) was launched in April 2014, to assess the Green House Gas (GHG) sustainable lifecycle of wood fuel (i.e. logs, wood chip and wood pellet). In October 2015, participants of the non-domestic Renewable Heat Incentive (RHI) scheme will need to meet NEW sustainability criteria to ensure their wood fuel comes from a sustainable source, as outlined by OFGEM. Participants will be required to purchase wood fuel from a wood fuel supplier who has been authorised via the Biomass Suppliers Lit (BSL) or self-certify.
Northwest Timber Limited are an authorised supplier on the Biomass Suppliers List (BSL).